Security Management Software not only protects against logical attacks including ATM jackpotting but combined with TMD Security hardware, also protects against skimming, card fraud and physical attacks.
Included in this pack are the following modules:
Security Kit Monitoring
Profile Management
Access Management
ATM Fraud Detection and Response
Security Kit Monitoring
Security Kit Monitoring provides a ''one look'' instant dashboard view of all the security kits on your ATM network and the security status of your ATMs.
Security Kit Monitoring works in combination with intelligent security kits for an end-to-end defence strategy - the next level in ATM security. The advantages of 'game-changing' security technology combined with monitoring software are maximum ATM security and availability, real-time management and control together with operational cost savings.
Profile Management
Profile Management helps to prevent logical attacks by detecting hardware and software changes.
Profile Management compares the hardware and software on the ATM with the defined correct versions stored centrally and alerts if any changes have been made.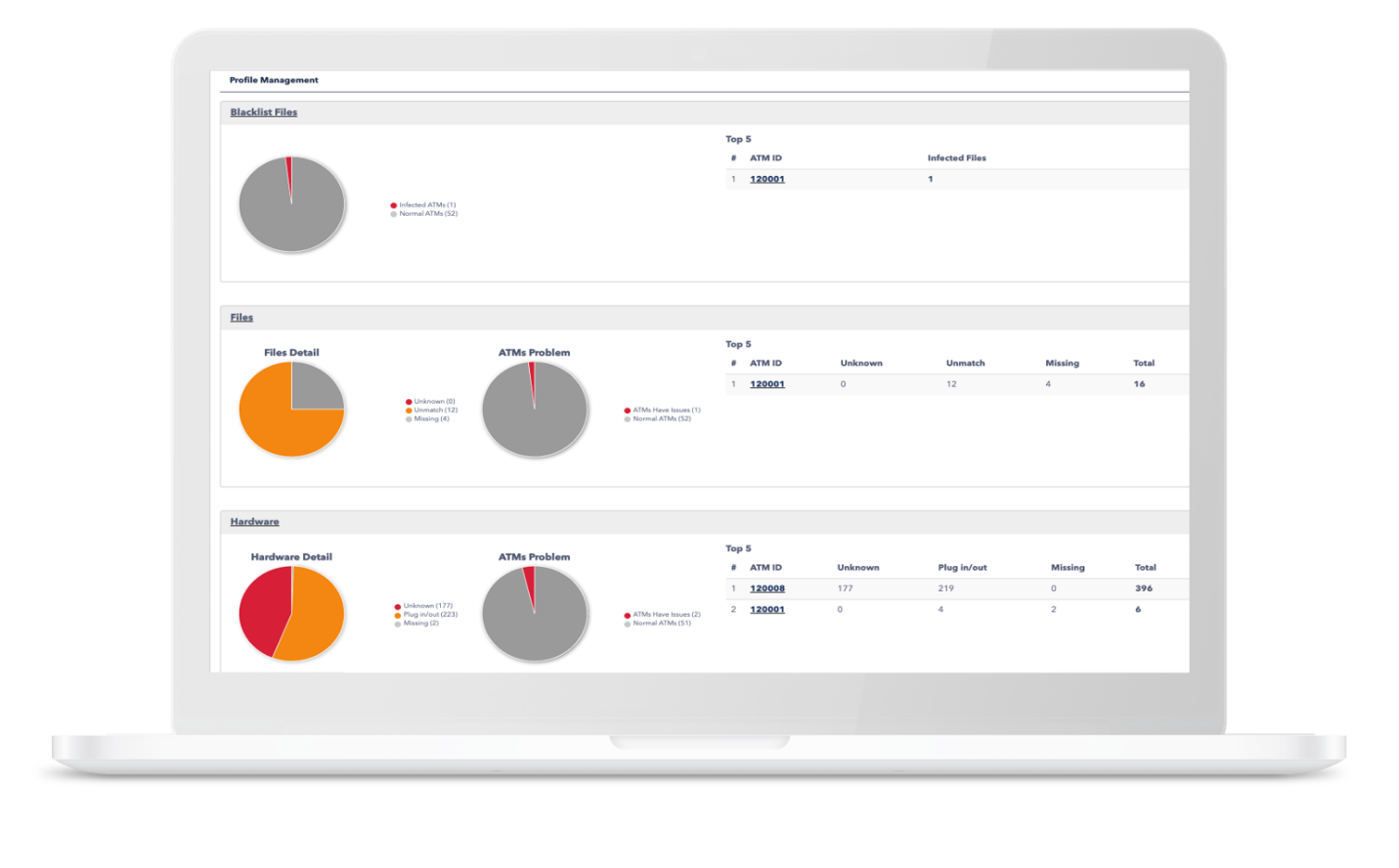 Access Management
Access Management protects against unauthorised software and malware, including jackpotting attacks.
USB devices are blocked by default. Secure, authorised temporary access for USB devices can be enabled remotely with an automated audit trail.
Only white-listed, authorised users can access ATM software, according to their user permissions. Unique, secure, Windows access passwords are generated in real-time.
BIOS security is fundamental to the security of the ATM and the BIOS password is protected and refreshed periodically to ensure it remains secure. This is a security recommendation from all ATM manufacturers.
ATM Fraud Detection and Response
ATM Fraud Detection provides instant intelligence into suspicious ATM transactions that helps to stop criminals in action. ATM Fraud Detection compares pre-defined business rules with actual transactions. If suspicious activity is detected, either the ATM can be shut down or the card can be blocked.